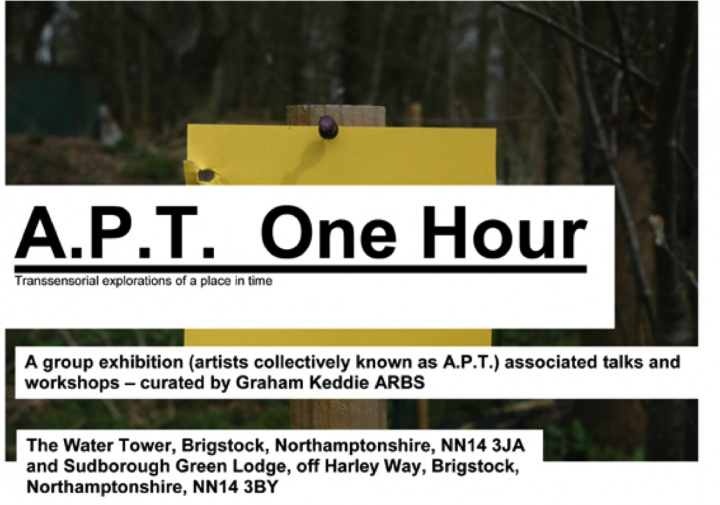 A project curated by Graham Keddie with project support from Rosalind Stoddart
6 – 8 September 2013
10am – 4pm
The Water Tower, Brigstock, NN14 3JA
Sudborough Green Lodge, off Harley Way, Brigstock, Northants
Curator Graham Keddie has invited selected artists to spend one hour in a specific location and make new work in response to this. Each artist has selected their "one hour" according to the 24-hour clock, so that the hours, minutes and seconds, mirror the date in the format of DD/MM/YY. Places such as home, an independent record store, a lake, a foot tunnel and other internal and external environments have all come under the creative scrutiny of the exhibiting artists.
APT artists:
Graham Keddie, Spencer Graham, Susan Bonvin & Andrew Eden, Gary Price-Hunt, Sebastian Blackie, Desmond Brett, Gail Dickerson, Christina ten Bosch, Tom Hackett, James Steventon, Ben Baal-Bowdler, Stephen Elvidge, Jack Eden, Susan Williams, Helen Frankland, Michelle Keegan.
Guest artists: Jack Blount, Paulina Glimas, Jill Hedges, Kim Metcalfe, James Mildenhall, Bethany Murray, Sharon Read, Warren Shaw, Flavia Terzain, Helen Turton.