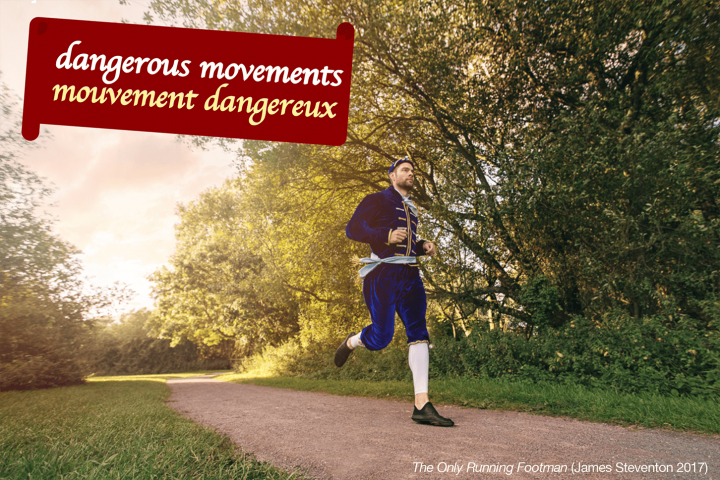 Against the precarious situation today (Brexit, the anthropocene et al) and with special attention paid to the Parisien/European mise-en-scene, #r3fest 2018 – In Exile invites us to think about mobilities and the (end to the?) freedom of movement and mobilities today, how that relates to art movements like Situationism and the historical boundary-crossing foot messenger, and creative steps towards re-making the world around us and what running and the emerging 'Running Studies' could contribute.
#r3fest is co-curated by artist Dr Kai Syng Tan (Biennale of Sydney, ASEAN Para Games ceremonies 2015) with author Dr Vybarr Cregan-Reid (Primate Change 2018, Footnotes 2016), who is also a Reader in English & Environmental Humanities in the School of English at the University of Kent.
The RUN! RUN! RUN! Biennale is a bi-annual interdisciplinary programme exploring running as an arts and humanities discourse. Founded in 2014 Kai and geographer Professor Alan Latham (UCL) in 2014, it is characterised by 'productive antagonisms' (Latham and Tan 2017) in its activation of running as a methodology and metaphor to connect and disrupt across disciplinary and other borders, as well as its 'positive atmosphere' (Guardian 2014).
The University of Kent's Paris School of Arts and Culture is a specialist postgraduate centre in one of the most culturally rich cities in the world. We offer advanced, flexible degrees across the arts, including in architecture, history of art, film, drama and literature, with modules that capitalise on the city's vast heritage and culture.
8 November 2018
18:30-20:00
Art exhibition | Running | Performance-lecture | Reading | Discussion | Drinks
University of Kent Paris School of Arts and Culture
Salle de Conference
Reid Hall
4 Rue de Chevreuse
75006 Paris
France
Nearest Metro: Vavin
Featured artists & researchers:
Dr Elisa Herrera Altamirano
Dr Veronique Chance
Dr Carali McCall
James Steventon
Dr Matti Tainio
Zejun Yao
The Only Running Footman is a running-based performance by James Steventon based on an etching from the Old and New London by George Walter Thornbury, 1873. For its first iteration James dressed as an 18th Century Running Footman to run 26 miles to deliver a message.
For #r3fest 2018 – In Exile, James delivers messages electronically in the form of a running related quote displayed randomly from a collection of contributed quotes when visiting: www.jamessteventon.com/in-exile/the-only-running-footman.
To contribute your own quote contact James.