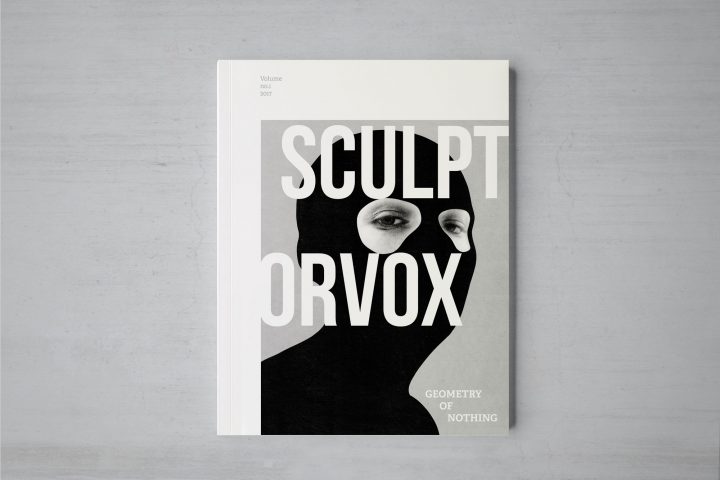 Sculptorvox is a 7 volume series containing written and photographic contributions that have broadly and creatively interpreted, discussed and responded to a theme by exploring associations, presenting stories and constructing narratives, with each volume produced as a limited print run.
'Geometry of Nothing' is the inaugural volume in this series. It explores a variety of concepts around contemporary sculptural practice. It casts an eye at some of the fundamental aspects of ideation, process, spacial-relationships, interaction. The idea that the creative process is 'ex nihilo' – something from nothing – speaks to the origins, drives and outcomes generated by the artist's compulsion to create physical, tangible and virtual objects, realms, realities and dialogues.
Sculptorvox's vision is to create a one-time, collectable publication series dedicated to the appreciation of contemporary art practice within the broadest notion of what sculpture means today; featuring interviews and profiles of the most innovative contemporary artists working in three-dimensions.
As with all creative processes Sculptorvox features the influential work that feeds the careers, lives and output of contemporary artists with inspiring photographic work, journalism, new writing and influential viewpoints.
Sculptorvox is an independent publication produced by Urban Fugitive as its sole endeavour. In conjunction with the notion of the slow web, through print based publishing Urban Fugitive provides a complementary format for a slower, more considered consumption of information both visually and textually. Urban Fugitive are a small independent publisher creating a lasting, physical, tangible and viable alternative through beautifully crafted niche publications.
The volume themes are:
Volume 1. Geometry of Nothing
Volume 2. Blood & Wire
Volume 3. A God Complex
Voiume 4. Plastic Prognosticate
Volume 5. Opposite is Apposite
Volume 6. State and Fluctuation
Volume 7. A New Landscape
Team
Editor – Daniel Lingham
Art Director – Matthew Gill
Copy Editor – Elizabeth Hawley
Transcriptions – Katy Mack
Contributors
Jesse Draxler
Alex Young
Frederic Bigras-Burrogano
Jeannie Driver
James Smith
Mark Osbourne
Laura Davidson
Neil Armstrong
Rebecca Partridge
Elisavet Kalpaxi
Chelsea Pettitt
Mark Leahy
Alex Baddeley
J F Masson
James Steventon
Benjamin McDonnell
Charles Hurcumbe
Click here to order Volume 1. Geometry of Nothing
Approx 150 pages, 215 x 280mm. Perfect Bound.
Publish date: Sept/Oct 2017.
Limited edition run.